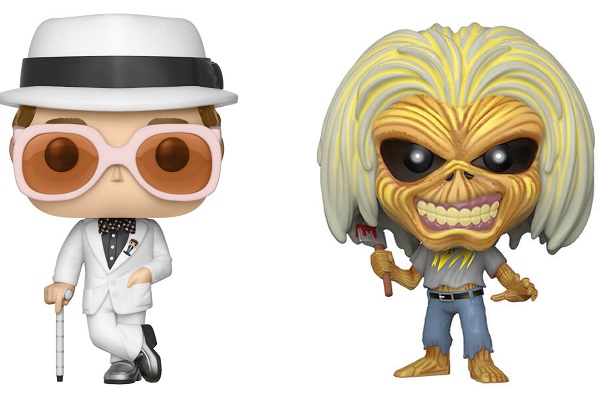 Funko! Pop dolls are everywhere right now, and I'm loving the rock and metal offerings they have. The first one I remember seeing was Kurt Cobain, and now, pretty much every major rock and metal personality has his or her own model.
Here are five Pop! Vinyl stand outs, available via Pop In a Box. These could make a good birthday gift for the rocker in your life!
1. Iron Maiden Eddie Number of the Beast Version Pop! Vinyl Figure
Oh, goodness, how I love this! I'm a huge Iron Maiden fan, so it just makes me smile. : ) The all new Iron MaidenPop! Vinyls are here and fully represent Eddie in all his glory.
2. KISS, the Starchild Vinyl Figure.
Funko! Pop dolls are available for all the band members, including The Starchild, The Demon, The Spaceman and The Catman. These figures are from New York Toy Fair and are so creative, that they really feature some awesome KISS-specific details!
3. Queen Freddie Mercury Wembley 1985 Pop! Vinyl Figure
This is one of the most anticipated Pop! items out there and currently available for pre-order only, so snatch it up before it sells out. The dolls features Freddie Mercury in his iconic outfit from the concert in Wembley in 1986 Pop! Vinyl. So cool!
4. AC/DC Angus Young Pop! Vinyl Figure
This AC DC Angus Young Pop! Vinyl Figure looks so much like Angus that it's scary- in a good way! Those who purchase this "Angus Young" will have the chance of receiving the Chase Variant instead, which has a one in six rarity. It's completely random.
5. Elton John Pop! Vinyl Figure
This one is a classic. English singer and pianist Sir Elton John is featured here sporting his white suit with his trademark sunglasses.
Of course, Funko! Pop dolls are available for pretty much every pop culture figure imaginable, so these are just a few. At this point, who hasn't been made into a Funko?