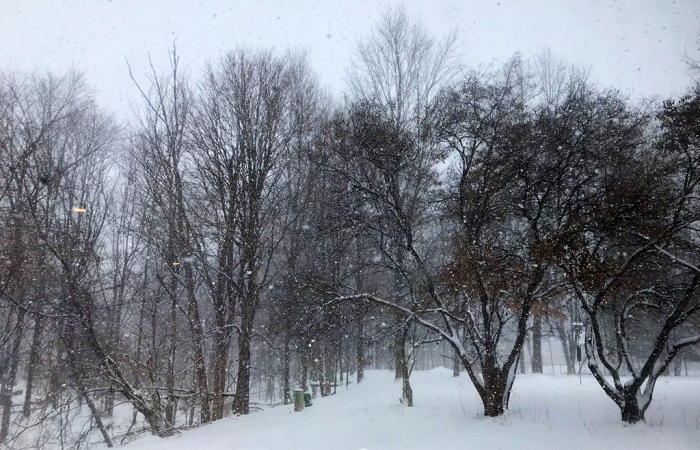 Winter things to do in Michigan: The Mitten offers plenty of fun, chilly adventures, from hiking to frozen waterfalls
While Michigan winters tend to be very cold, they also offer some of the majestic beauty of the year. Michigan is known for its picturesque winters, with its trees, hills and homes topped with a sparkly dusting of snow and ice that's glorious to view.
Michiganders are used to the cold, so venturing outside in the frigid temperatures is a small price to pay to experience the beauty that a Michigan winter has to offer. Read on for 10 Winter Things to Do in Michigan, which should keep your scheduled packed with fun straight through the spring.
Winter Things to Do in Michigan
Take a (Safe) Road Trip
While Michigan is one of the coldest states in the U.S., it's also one of the most beautiful during the winter months. Nothing beats the view of snow-capped trees and hills, which blanket the Michigan landscape. When it's not super slick out, hit the road for a road trip, and take in all of the scenery. Even better, leave before the storm, find a bed and breakfast to stay at and enjoy the scenery of a winter storm somewhere fresh and exciting.
Take a Winter Hike
Even on the coldest of winter days, a hike can be a refreshing breather. Thankfully, Michigan offers a plethora of trails, and chances are, there's one near you. Check out the Michigan Trails and Greenways Alliance for a range of picturesque trails to fully enjoy the season.
Go Ice Skating
What's more winter than going ice skating? Not much! Nearly every Michigan city as a pop-up outdoor ice skating rink, and these rinks are getting more and more popular by the year. The Rink at Campus Martius Park in downtown Detroit is a classic. Another favorite is the Boyne Mountain ice rink in Boyne Falls, Michigan. This year, the City of Lansing and the Community Foundation are joining forces to build a 3,300 square foot synthetic ice skating rink on City Hall Plaza, adding some skating fun to the downtown Lansing area. Will it become an annual tradition? Time will tell.
Visit Mackinac Island
Most people think of heading to Mackinac Island, Michigan, in the warm, summer months, but it's also a popular destination for winter travelers. Seeing the island topped with snow and ice is breathtaking, and once you experience it during the winter, you'll want to make it an annual tradition. The historic Grand Hotel offers the perfect spot to stay while you're experiencing Mackinac Island in the winter.
Head to the Petoskey Resort Communities
Petoskey is a glorious place to visit in the spring, summer and fall, but those looking for a truly unique experience there will find it during the winter. First of all, it's not nearly as crowded, so visitors get their pick of the land. The region also offers fantastic snow recreational activities during the winter, as well as dining and hotels. Pick a resort – Alanson, Bay Harbor, Boyne City, Harbor Springs or Petoskey – and get ready for an adventure.
Explore Frozen Waterfalls
Have you ever seen a frozen waterfall in the heart of winter? It's a beauty. Michigan has a rich selections of waterfalls, and in the winter, they glisten and shine for a spectacle that's pure nature. A few of the best frozen waterfalls in Michigan to see in the winter are Munising Falls at Pictured Rocks National Lakeshore in Munising and Tahquamenon Falls at Tahquamenon Falls State Park in Paradise.
Go Sledding or Tubing
Good, old-fashioned sledding are tubing are really the perfect winter activities, and they're so nostalgic. Sledding and tubing bring back great memories of slipping down a slope at record speeds for generations of winter enthusiasts. For those in mid-Michigan, Hawk Island in Lansing is a popular tubing destination, as is Burchfield Park. The Hawk Island hill is massive, measuring 500 to 600 feet long with a drop of 50 to 60 feet. For those in Detroit, the Detroit Riverfront offers plenty of fun at the Outdoor Adventure Center, overlooking the Ren Cen. In Grand Rapids, Richmond Park offers some great sledding spots, as does Cascade Township Park.
Visit a Michigan Ice Cave
Doesn't an ice cave simply sound cool, no pun intended? Michigan ice caves are glorious in the winter, especially in mid-February, when these caves are at their peak. Michigan's freezing temperatures and moist air are the perfect environment for ice caves to form, and a few of the best are the Eben Ice Caves and the Grand Island Ice Caves.
Take a Stroll Through the Frederik Meijer Gardens and Sculpture Park
Grand Rapids' Frederik Meijer Gardens and Sculpture Park is a popular destination in the spring and summer months, but the gardens are equally beautiful in the winter. Seeing the garden's masterpieces with a dusting of brilliant white snow and ice makes the location even more special. It's less busy during the winter, too, which is a bonus.
Stay at Home and Drink Hot Cocoa
When the weather is too snowy and ice to drive safely, there's always the option to stay cozy inside, make some hot cocoa, bake s'more cookies (here's a great s'more bar cookie recipe) and watch a winter movie. Call it the perfect mid-winter weekend activity. I admit that one of my favorite winter activities is putting on my "comfies," which are basically my warm and fluffy pajamas, making some all-natural hot cocoa using this recipe and watching Hallmark movies until I can't keep my eyes open anymore. So fun!