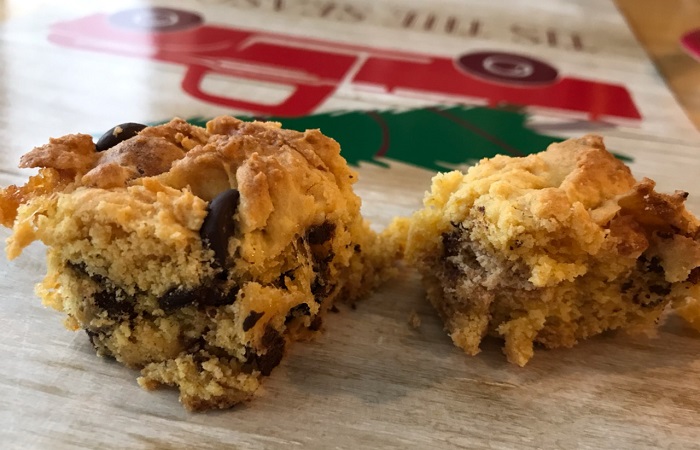 S'more Recipe: Anne's S'More Bars look and taste like a gourmet dessert. Nobody needs to know they're super quick and easy, using only six ingredients!
One of my favorite ways to bake is by looking around to see what I already have and finding new recipes to try using the ingredients already available, which is how I came up with this s'more recipe. After recently making my Chocolate-Peanut Butter Rice Krispie Treats recipe, I found myself with a bunch of left over marshmallows. Now, don't get me wrong, I love marshmallows, but since I didn't see myself eating 10 cups worth anytime soon, I started to research another treat I could make with marshmallows.
I thought about making traditional s'mores but wanted something a bit more special. Looking around the cupboards, I spotted some left over cake mix and graham crackers, which gave me the idea for making cake-like s'more! After experimenting a few times, I developed this recipe for s'mores bars that taste a lot like cake, too, since they're made with cake mix. These are so delicious and packed with flavor and so easy to make!
Feel free to add more or less marshmallows or chocolate chips to this recipe, based on your taste. This is just the combination I found that, in my opinion, tasted best. You can also switch up the kind of cake mix that you use. Some recipes for s'mores cake use chocolate or fudge cake mix, which works too, but I prefer the yellow cake mix and how it compliments the graham crackers and marshmallows.
I try to make sure all of the recipes I publish are easy to follow, and this recipe for S'more Bars is no exception. While many recipes call for crushed graham cracker, with this one, you simply have to break the graham crackers into large chunks, which is a big time save. This is also a quick recipe if you have no flour in the house, which I'm guilt at sometimes! A bonus is that this dessert looks beautiful. The presentation is truly worthy of five stars.
Ingredients:
1/2 box yellow cake mix
1/4 cup melted butter
1 egg
1/2 cup chocolate chips (semi-sweet, milk or dark chocolate all work)
3/4 cup mini-marshmallows
2 whole graham crackers
Directions:
1. Preheat the oven to 350 degrees Fahrenheit. Spray nine-by-nine inch baking ban with non-stick cooking spray.
2. Pour the cake mix into a bowl, and add the melted butter. Mix until combined.
3. Add the egg into the cake mixture and mix well. Add the chocolate chips, mini-marshmallows and graham crackers. Fold together until everything is mixed up.
4. Bake for about 25 minutes or until the edges and top are lightly browned. Test doneness by inserting a wooden toothpick into the center of the treat. If it comes out clean, it should be done!
5. Let cool for 20-30 minutes before attempting to cut, or else the bars will fall apart when cutting.
Super flavorful and sweet, these taste like cake-s'mores! These are one of my all-time favorite desserts, and they'll go quickly.
Rice Krispie Treats Recipe: Quick Chocolate-Peanut Butter Treats
Here are photos of the s'mores during the creation process: