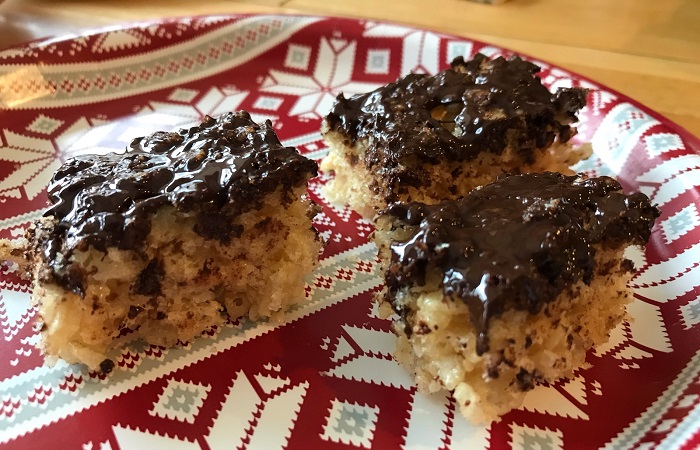 Recipe: Anne's Rice Krispie Treats (or Rice Crispy Treats, however you like to call them) have a surprise kick: peanut butter and chocolate. Oh, my!
Whether you call them Rice Krispie Treats or Rice Crispy Treats, they simply rock. These treats are some of the most popular year-round desserts out there. Rice Krispie Treats are so versatile, too. They can be dressed up for the holidays with red and green sprinkles or presented plain and simply for a summer picnic!
Rice Krispies Treats date back to 1939, when Malitta Jensen and Mildred Day created the tasty dessert at the Kellogg Company home economics department. At the time, it was a fund raiser for Camp Fire Girls. What they didn't know at the time was they they were creating what would eventually be an American favorite! Kellogg's Rice Krispies Cereal dates back to 1928, when it was first available to the public.
Read on for an easy Rice Krispie Treats recipe with a twist! What's extra special about this recipe is not only that's it's super easy, but also works in peanut butter and chocolate for a truly unique treat. If you would rather have the more traditional marshmallow flavor, simply leave out the peanut butter, and the treats will still turn out just as delicious. Also, feel free to use chocolate frosting instead of the chocolate topping I use, if you so desire.
Also, everyone is different, but I like this recipe because the treats aren't too gooey. Whenever I've had a treat that is too gooey, it gets all over my hands and in such a mess! So, this recipe has slightly drier treats that you might recall. But, they're still chewy and delicious! What's also fun is that you can dress these up with other extras, such as peanut butter chips. Anything that you think will go with the peanut butter flavor is fair game!
Ingredients:
2 tablespoons butter
2 cups mini marshmallows
1 tablespoon creamy peanut butter
4-5 cups crispy rice cereal (such as Rice Krispies, but generic is fine, too)
1/4 cup semisweet chocolate chips
Directions:
1. Spray a nine-inch square pan (or circle pan, if you don't have square) with nonstick cooking spray.
2. Melt butter in a large saucepan over medium heat. Add marshmallows as soon as the butter melts and mix with a large spoon until melted. Stir in the peanut butter.
3. Remove saucepan from heat; stir in cereal. Pour mixture into pan and press down to flatten. Don't push down too hard, though, as we want the treats to be light and fluffy.
4. Microwave chocolate-chips in a bowl for 40 seconds or until melted. Still and spread onto treats.
5. When cook, cut into squares. Oh, so good!
Crunchy and sweet, these treats are the perfect combination of good tastes!