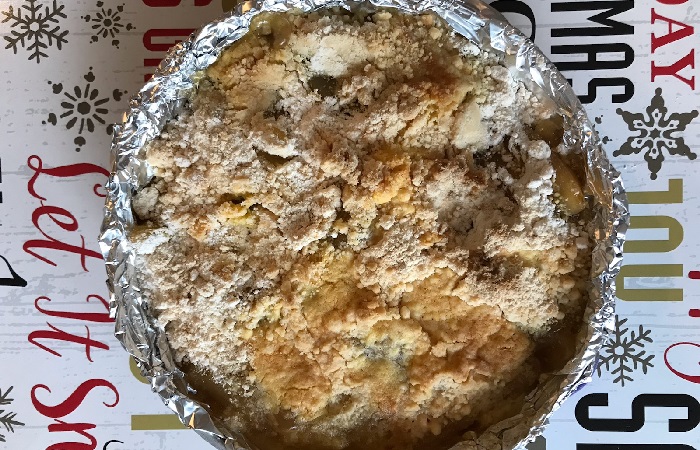 Easy recipe: Anne's Apple Pie Cake is a special treat! Think of it as an apple crisp, but with vanilla cake mix instead of pie crust or cookie.
One of my favorite restaurants recently closed, which was heartbreaking in so many ways. My favorite dessert was at this restaurant- an apple cobbler-type of dessert but with cake instead of pie crust or cookie. I set out to make my own version, and here it is! This is so good, and while you don't need the ice cream, it really does taste best with cold vanilla ice cream over the piping hot dessert. Yum!
This is truly the perfect dessert if you're looking for something quick and last-minute to take to a party. Apple pie is so versatile, too, so it works for a holiday gathering or a summer open house. Nobody will know it only has a few ingredients! It's a super impressive-looking dish, so even if you're not the best baker, it's something you can pull off that will impress even the most picky eaters! If they ask you for the recipe, just say it's a family secret. Wink, wink.
Ingredients:
1 can (20 ounces) apple pie filling
1/2 package yellow cake mix (15.25 ounce package, divided in half)
1/3 cup salted butter
Vanilla ice cream
Directions:
1. Preheat the oven to 350 degrees Fahrenheit. Scoop the apple pie filling into a 8-inch by 8-inch pan, 9-inch by 9-inch pan or regular sized pie pan.
2. Take the 1/2 package yellow cake mix and sprinkle over the top of the apple pie filling.
3. Slice the butter into thin slices and place evenly on top of the cake mix.
4. Bake for 40 minutes, or until the top is light golden brown and the apples are bubbling up.
5. Spoon mixture into serving bowls or cups and top with vanilla ice cream. So sweet and delicious!
Anne's note: You can double this recipe, if you wish!