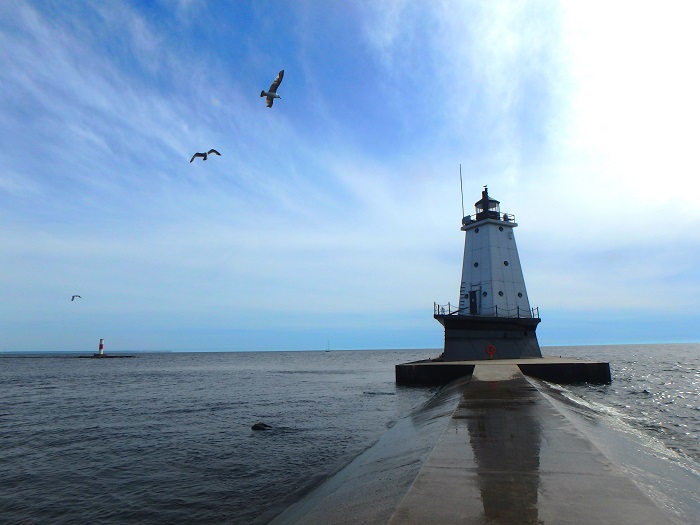 Nestled off the west shoreline of Lake Michigan, Ludington is a celebrated Michigan spot, especially during the warmer months.
I took at trip to Ludington for the first time last weekend and was floored by the beauty and majesty the city has to offer.
Here are five special things to do and places to go the next time you visit Ludington, Michigan.
For addition information on all things Ludington, visit the West Michigan Tourist Association website at www.wmta.org.
Lake Michigan beach and Ludington North Breakwater Lighthouse
One of the most popular things to do in Ludington, of course, is spend time at the beautiful Sterns Park Beach, which is free for the public. Take a stroll towards the breathtaking Ludington North Breakwater Lighthouse (pictured above) and keep your eyes open for the mighty S.S. Badger to take sail across Lake Michigan. Watching the sunset over the lighthouse was my favorite part of the trip.
Downtown walk
Browse the delightful shops along Ludington Avenue and James Street for Michigan keepsakes, postcards, unique home decor, scented candles, custom-printed T-shirts and photography by famed Ludington-area photography duo Todd and Brad Reed.
Sable Point Lighthouses
Visitors come from far and wide to experience Ludington's Sable Points Lighthouse. Both the Big and Little lighthouses offer an exciting view of the area for those who climb the tower. For information on both light houses and rates, visit www.splka.org.
Dining delights
No matter where to stop to eat in downtown Ludginton, chances are, you'll be thrilled at your choice. During my trip, we stopped at the Old Hamlin Restaurant and enjoyed their breakfast buffet, which offered everything from thick, homemade French toast to fresh fruit to light and fluffy pancakes.
House of Flavors
Whatever you're doing in Ludington, cap it off with a trip to the legendary House of Flavors. The 1950s-themed ice cream parlor and restaurant holds the Guinness World Record for Longest Ice Cream Dessert. They also have amazingly flavorful, unique ice cream flavors. Visit the official House of Flavors website at www.houseofflavors.com.
Photo by Anne Erickson