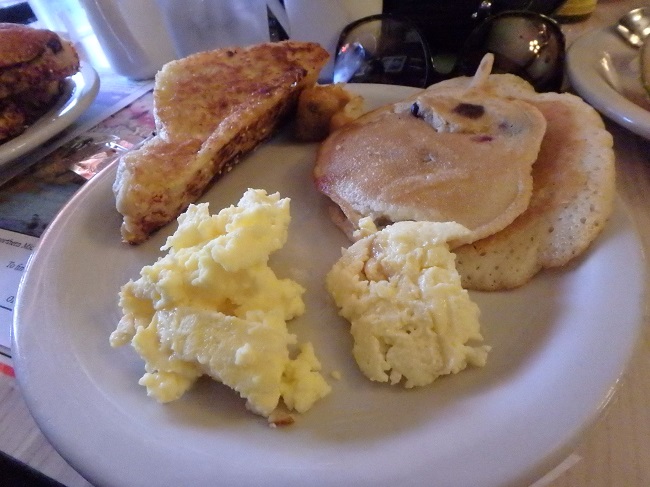 Breakfast is my favorite meal. Who can resist fresh, warm pancakes in the morning with sugary syrup on top? Not me! Whether it's morning, noon or night, there's no denying breakfast can make for a satisfying meal.
During my recent trip to Ludington, I tried breakfast at the legendary Old Hamlin Restaurant, which offers tasty, affordable breakfast platters and a comprehensive breakfast buffet. I had hear of Old Hamlin Restaurant from my boyfriend for a while, so my expectations were high going into the experience.
For this trip, I tried the Old Hamlin Restaurant buffet, which had everything from fresh fruit to thick, delicious French toast to homemade donuts. Honestly, I would recommend the buffet to anyone. I kept going back for more, and the food was fresh and delicious. I knew I would be walking around Ludington all day so needed the energy! At least that's what I told myself during my third trip back to the buffet. While the French toast was delectable, I really loved the sugary, homemade donuts, which had just the right amount of crisp on the outside and softness on the inside. They were literally the perfect donut.
For those who aren't looking for breakfast, Old Hamlin has a special Friday Fish Fry every Friday from noon to close for $12.99, and the fried fish is a local favorite. They also have various lunch and dinner items, so if breakfast isn't your thing, you'll have plenty of other options. Then again, if you don't like breakfast food, then I simply cannot understand you, because it's the best!
The atmosphere at Old Hamlin Restaurant was rustic and comfy. I'm looking forward to going back the next time I'm in Ludington. And next time, I'll have to make room for an extra trip to the buffet!
Visit Old Hamlin Restaurant online at OldHamlin.com.