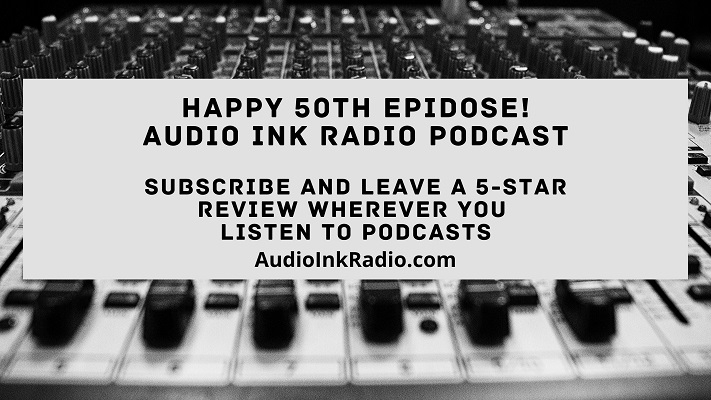 Thanks to your great support, I just hit 50 episodes on the Audio Ink podcast! Thank you for listening, from the bottom of my ♥️. Thank you, also, for all of your heartwarming reviews on my Apple Podcasts page. Check them out below.
It's funny- I never, ever thought I would host a podcast. I'm a radio host and have been for years, and the thought really never occurred to me to do a podcast. But, pretty soon, it seemed like everyone had a podcast! It was the new, hot trend, and kept growing. So, I thought, why not dig in?
I've really enjoyed the podcast experience, because for the first time, I'm telling longform stories about my life and experiences. On the radio, I love delivering news and talking about my life in short snippets, but it's definitely a different thing when I get to talk for 20 minutes about my first concert of all time or new favorite hobby. It was a bit scary to open up, but you have been so welcoming, so thank you!
Of course, the heart of the podcast is "interviews with the biggest names in rock and metal." We've had some fantastic interviews on the show, including Rob Halford and Ian Hill of Judas Priest, Mark Tremonti of Alter Bridge, Michael Sweet of Stryper, John Cooper and Jen Ledger of Skillet and LJ Witherspoon of Sevendust, to name a few. I was going to list my favorite interview so far on the show, but I really can't pick just one. Each interview has been special.
Listen to "The Great Band Tee Debate" and "Date-Worthy Songs" episodes below. These are shorter podcasts, while the most recent episodes are longer, clocking in at around 30 minutes. More episodes can be streamed here.
Subscribe to the podcast on iTunes here, Spotify here and, last but not least, YouTube here. 
Also, if you listen on Apple Podcasts, please leave a five-star review! It really helps. Thank you!