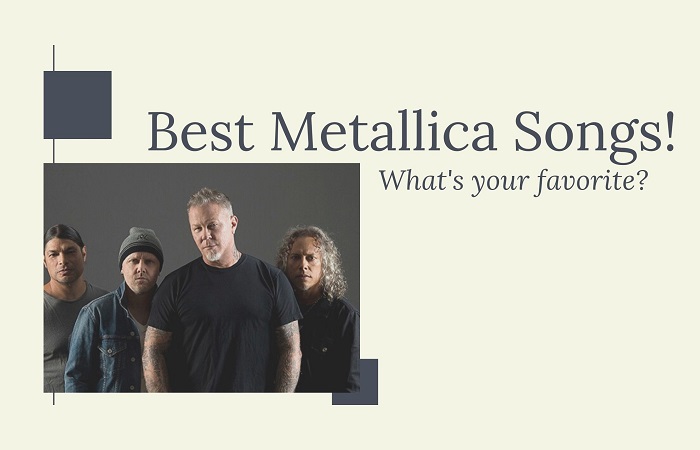 Metallica need no introduction. The band is arguably – or not so arguably – the biggest metal band in the world.
I recently put together a list of what I consider some of the most underrated Metallica songs of all time. I also hosted a podcast episode on the subject, which you can hear via Apple Podcasts here and Spotify Podcasts here, plus below.
Doing the podcast got me thinking about the best Metallica songs of all time. Maybe these aren't technically the best, but they're some of the most popular, and they helped make Metallica who they are today. They're also songs I still play on rock radio at the WRIF in Detroit and beyond.
Read on for my list, and hit me up on social media with your favorites!
10 Best Metallica Songs of All Time
Battery
Metallica's 1986 album "Master of Puppets" begins with the thrash-y, hard-charging "Master of Puppets." It's a fan favorite, and for good reason. Who can resist those guitars?
Fade to Black
"Fade to Black" has a special place in many Metallica fans' hearts, since the song was pretty much the group's first true ballad. It's beauty has only grown over the years, with dark themes and lush instrumentals.
For Whom the Bell Tolls
Metallica show they're well-read with "For Whom the Bell Tolls," which takes inspiration from the 1940 classic by the same name. The song is a major highlight off my favorite Metallica album, 1984's "Ride the Lightning," and still a staple on rock radio. I remember playing this a lot at iHeartRadio, and I definitely spin it on WRIF.
Master of Puppets
"Master of Puppets" is one of those songs that even if you aren't a Metallica fan, you know it. Okay, if you're not a Metallica fan, why the heck not? That's a whole different story. With its fist-pumping chorus, to which the crowd sings, "Master! Master!," this is undoubtedly one of Metallica's most recognizable songs of all time and a favorite.
Nothing Else Matters
Okay, there's no denying that Metallica's "Nothing Else Matters" gets play a bit too much on rock radio. But, there's a reason for that. It's an awesome song. "Nothing Else Matters" is one of those songs that hits you in the gut and makes you feel something special, which is one reason it's one of Metallica's longest lasting hits.
One
Metallica ruled MTV with their song "One," and the fact the epic music video was plastered all over the network back in the late 1980s helped make Metallica a household name. Metallica stood out, since many of the bands on MTV at the time were "hair metal" types. Without or without the music video compliment, "One" is a classic.
Orion
Metallica named their whole music festival, Orion Music + More, after their song "Orion," so you know it's a special one. The lengthy, eight-minute long track is extra special since it features an incredible bass solo from the late, great Cliff Burton.
Seek and Destroy
While Metallica's setlist is constantly changing to keep it fresh and exciting, the band is known for closing its shows with "Seek and Destroy." Head to a Metallica show, and when you hear the song's opening chords, chances are you'll hear a big reaction from the crowd knowing the end is near.
The Unforgiven
"The Unforgiven" takes the listener on a journey with its deep, insightful take on life, love and freedom. Even without the lyrical themes, the song musically soars, with lush guitars and intricate passages that makes this a true gem.
"Welcome Home (Sanitarium)"
Metallica are known for their heavy, thrash-y songs, but they also rule when it comes to ballads. "Welcome Home (Sanitarium)" is a winner, with its dark imagery of a mental asylum coupled with dark instrumentations.