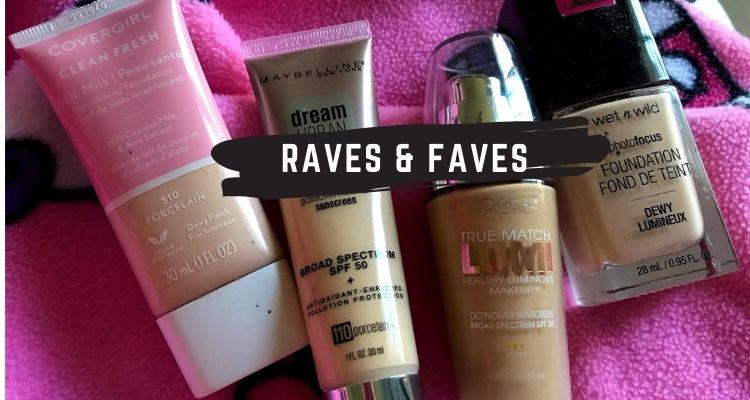 Foundation can be tricky. Finding the best foundation to fit your skin profile, as well as the perfect shade, is simply time-consuming and daunting.
The good news is that today, more foundation options are out there than ever before. Read on for five raves and faves, all of which passed the "real world" test.
Note that my skin is dry, and I'm always searching for dewy-looking foundations that add moisture. That said, these options all cater to dry skin. Most of these foundations are available at Ulta, Amazon and your local drug store, so they're easy to find.
Best Foundation Picks: 5 Raves and Faves
Color: Porcelain
Considering that this foundation retails at $5.99, I wasn't expecting much from Wet and Wild PhotoFocus Dewy Foundation. I love Wet and Wild's products, but pretty much stick to their lipstick and nail polish. I was shocked by this foundation- in a good way. This foundation truly does photo well. I even used this makeup when shooting a music video for my band, Upon Wings.
This foundation goes on pretty heavy, so it really acts as a full-coverage foundation, which is great for photo work. It also doesn't harden on skin and feels soft and moisturizing. The scent is a bit strong, but it smells good, so that isn't really an issue.
Wet and Wild PhotoFocus Dewy Foundation is a great option if you're looking for a full-coverage foundation that doesn't break the bank.
Color: Porcelain
I was really excited to try Maybelline Dream Urban Cover, because it sounds like the perfect foundation. It's a full-coverage foundation that is considered "protective," offering mega protection from the sun with a SPF of 50, plus packs antioxidants.
This foundation has a lot to offer, but for my dry skin, it was a bit drying. I was surprised, but the finish was a bit more matte than expected. Some people love a matte finish, though, so don't count this one out. If you're searching for a foundation that protects you from the elements and don't mind a matte, more dry finish, then this is a good fit.
Color: Warm
L'oreal's True Match Lumi Healthy Luminous Makeup offers healthy ingredients that "improves your complexion the more you wear them," according to the company. The formula is 40% pure water for all-day hydration. This foundation also includes vitamins C and E, which is a big bonus.
This foundation has a nice, soft matte finish. It's also a very lightweight formula, so if you're looking for a foundation that offers lightweight coverage with a subtle glow, this is a good pick.
Color: Porcelain
I really feel like CoverGirl Clean Fresh Skin Milk is one of the best kept secrets out there. It's become one of my go-to foundations.
Clean Fresh is vegan makeup, free of sulfates, formaldehyde, phthalates, parabens or talc. It's made with 100% vegan ingredients, such as aloe vera. What I personally love about Clean Fresh is that it's super hydrating. There's no caking up, and this is truly a dewy finish. If you have dry skin and are looking for a dewy foundation, I recommend this one.
Color: Porcelain
Revlon ColorStay Light Cover Liquid Foundation is one of the lightest weight foundations on this list, and that's a great thing for the spring and summer months. The foundation is buildable and looks light and fresh for hours. This is also a good option if you don't quite know your skin type or have combination skin, as this foundation works for all skin types.
What about mascara? Check out our review of Maybelline's Sky High mascara here.