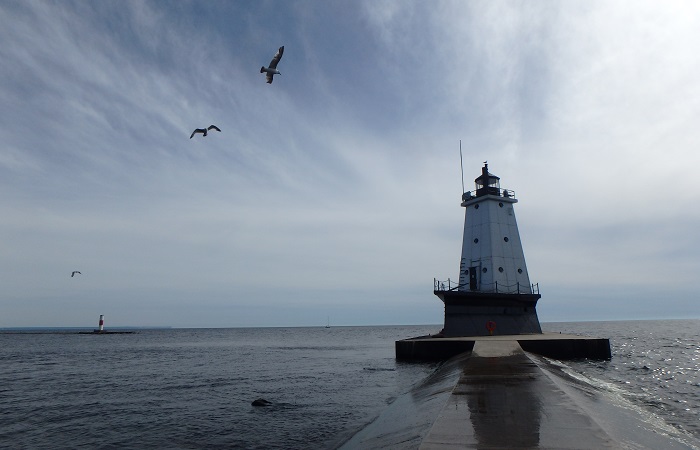 The sun is shining, and warm weather is finally here. In Michigan, that's a big deal, since we have fairly long, and bitterly cold, winters.
If you live in Michigan, you don't even need to get on a plane to enjoy a sensational summer vacation. There are plenty of fun warm-weather destinations just a drive away, and Michigan is a great state for road-tripping, too. Likewise, if you don't live in Michigan, this summer is the perfect time to visit and find out what makes Michigan so special.
Read on for five beautiful Michigan vacation destinations. I actually haven't been to Mackinac Island since I was a kid and hope to make it this year. Reach out to me on social media with your picks!
5 Beautiful Michigan Vacation Spots
Ludington State Park, Ludington
Ludington State Park is a magical spot, since it's right where Big Sable River and Lake Michigan come together, right on the shore of Ludington State Park. The area offers plenty lighthouses to visit, as well as hiking and camping areas. That's not to mention a bevy of quaint, local restaurants. Some fun facts about Ludington State Park: The park opened on August 15, 1936, and turned in 2016. It's hard to believe this spot is nearly a century old. As for hiking, Ludington State Park offers eight marked trails that cover 18 miles, complete with trail markers and information kiosks that offer historical and natural facts about the area.
More information: VisitLudington.com/ludington-state-park
Mackinac Island
Mackinac Island is known for its no-car policy, which makes this destination feel like you're going back in time. Take the ferry to gorgeous and historic Mackinac Island, walk around the island and make sure to snag a buggy ride pulled by horses to get a more in-depth view of the area. When you're there, check out the Arch Rock, which is the most famous of the rock formations on the island. The arch towers is more than fifty feet wide and is a major draw for tourists.
More information: MackinacIsland.org
Isle Royale National Park, Lake Superior
For the adventurous among us, head to the Isle Royale National Park. Tourists will find a rugged, private island that's perfect for hikers, kayakers, boaters and overall outdoor enthusiasts. Don't know where to stay? The park has plenty of historic resorts, which are listed on the Isle Royale's official website.
More information: Nationalparks.org/connect/explore-parks/isle-royale-national-park
Traverse City
If you love cherries, then Traverse City is a must-see Michigan town. Time your trip to hit the annual Cherry Festival, which usually takes place in July. The event brings thousands to the city, offering music, art, entertainment and, of course, fresh cherries. The Cherry Festival got its start back in 1925 as the Blessing of the Blossoms Festival and evolved from there.
More information: Traversecity.com
Sleeping Bear Dunes National Lakeshore
Sleeping Bear Dunes offer clear, blue water for as far as the eye can see along the towering sand dunes on the Lake Michigan Shoreline. If you're looking for some of the best beaches in Michigan, you'll find them at Sleeping Bear Dunes, offering a 64-mile curve with miles of perfect freshwater beaches.
More information: Sleepingbeardunes.com