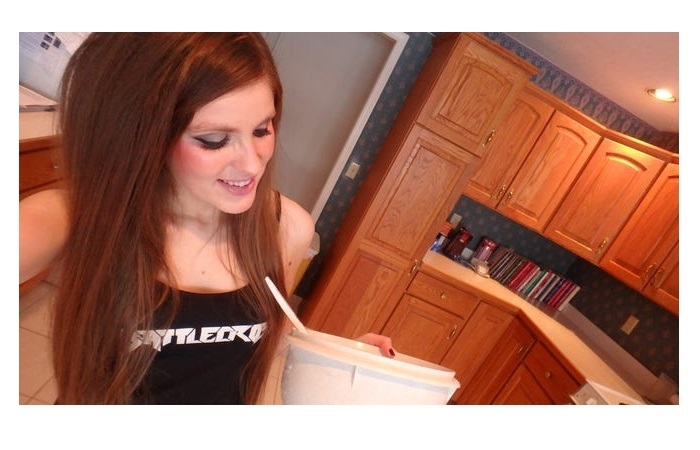 The holidays are coming up, and that usually gets me in the mood to bake. Okay, pretty much anything gets me in the mood to bake! I love playing around in the kitchen.
A few years back, in my Local Music Beat column (which was recently resurrected here, by the way), I put together a unique piece with one of my favorite recipes and some Michigan music to listen to while you're baking. So, I figured, why not do it again?
Read on for one of my favorite holiday recipes, a Cookie Dough Cheese Ball, as well as some recommended listening from Michigan bands, including my own band, Upon Wings, and some artists you'll hear on the local show on Detroit's WRIF, where I'm on air.
Anne Erickson's Cookie Dough Cheese Ball
Ingredients:
8-ounce. package cream cheese, softened
1/2 cup butter, softened
1/4 teaspoon vanilla extract
2/3 cup powdered sugar
3 tablespoons brown sugar, packed
1 cup mini chocolate chips, semi-sweet or milk chocolate
1/4 cup mini chocolate chips (separate from above)
1/2 cup pecans, finely chopped
Directions:
Combine the cream cheese, butter and vanilla extract until smooth. Slowly, add powdered sugar and brown sugar. Mix well. Fold in the 1 cup chocolate chips. Cover and refrigerate four hours.
Shape the dough into a ball. Wrap it in plastic wrap and refrigerate it until firm. Roll in reserved chocolate chips and pecans before you serve it.
Serve it up with animal crackers, snickerdoodles, mini chocolate chip cookies or graham crackers.
Anne's Michigan Playlist:
Ozay Moore, "Of Progress and Progression"
Harborcoat, "Joy is Elusive"
Centenary, "Death…The Final Frontier"
Upon Wings, "Eternal Way"
Nagazi, "March of the Serpents"
Vandalay, "Return"
The Plurals, "Gift"
The Soods, "A Ray Rewired, Volume 1 and 2"
The Stick Arounds, "Waiting For The Click" EP
The Wild Honey Collective, "Volume 1"
Slumlord Radio, "I Wanna Be Your Dog"
Jeremy Porter and The Tucos, "Candy Coated Cannonball"
Gunner & the Grizzly Boys, "Sweet Tea"
Eight Ball Grifter, "Hot Rod Kitten"
Narc Out the Reds, "Lipstick / Solitaire" 10-inch
Heartsick, "Pulverizer"
Artificial Agent, "Master Blaster"
Battlecross, "Scars"
Tension Head, "Panic Attack"
adrenachrome., "Contraband"
Wolf Eyes, "Twisted Nightfall"
Ozay Moore, "Go O Say More"
The Plurals, "Crush"
The Jackpine Snag, "The Grand River Float"
Dryvel, "The Happy Trails"