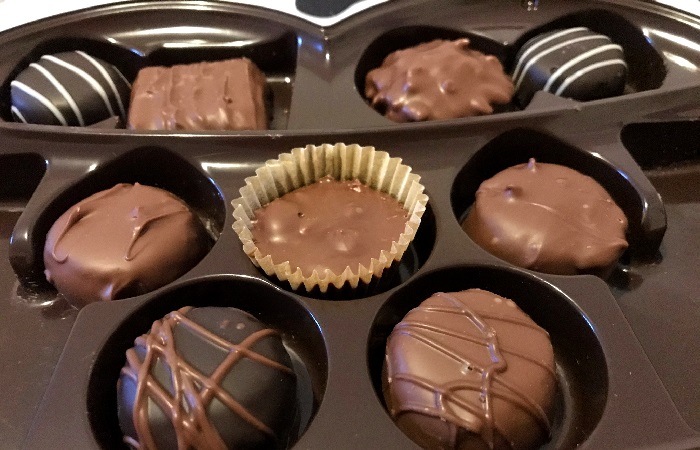 From handmade chocolates to old fashioned candies, these local shops will help you find the perfect item for your sweetie.
Valentine's Day and other holiday gifts are always difficult to find. Is it better to go for the classic chocolates, red roses or something totally unique and outside-the-box? That's always a tough call. One thing is certain: A gift from a locally-owned candy store shows that your intentions are truly from the heart.
Read on for 15 Michigan candy stores with a bevy of Valentine's Day gifts, in alphabetical order. Actually, these Michigan candy stores also offer gifts for any special occasion, from birthdays to anniversaries to Christmas. All of these stores offer online shopping, so whether you're located in their state or not, you can support these homegrown businesses.
15 Michigan Candy Stores with the Best Local Gifts
Boyd's Retro Candy
Truth be told, Boyd's Retro Candy is the only shop on this list not in Michigan, but they're in Toledo, so close to the border. Boyd's is a charming old time candy store specializing in candy from the 1950s, '60s and '70s, but with modern candy, too. Offering more than 1,000 candy choices, Boyd's stands out with its comprehensive line of treats from yesterday to today. Opening a package of old time Jujubes or JujyFruits will surely delight the special person in your life.
Location: 954 Phillips Ave., Toledo, Ohio
Online: https://www.boydsretrocandy.com/
Corden's Candy Carousel
Corden Chocolates has been going strong for more than 100 years. Over three generations, Corden has truly perfect the art of chocolate-making, offering rich, robust flavors of chocolate and candies that will please any sweet tooth. Our pick is the The Corden Block, offering a one-pound block of their signature creamy milk or dark chocolate.
Location: 26300 Michigan Ave., Inkster
Online: https://cordenchocolates.com/
Cosmic Candy Company
Want candy that's out of this world? Cosmic Candy Company to the rescue. The shop is known for its incredible popcorn, including candy-coated red popcorn, which is perfect for Valentine's Day or any romantic occasion. Cosmic Candy Company offers 50 different flavors of popcorn, as well as a wide range of traditional candy and taffy.
Location: 168 S Hancock St., Pentwater
Online: https://www.cosmiccandy.com/
Hanover's Michigan Mint Chocolates
St. John's, Michigan, calls itself the Mint Capital of the world, so why not get your mint chocolate from there? That's the idea behind Hanover's Michigan Mint Chocolates. The delectable shop hails from St. John's and has locations across Michigan.
Location: Hanover's has many locations throughout Michigan. Visit their website for the full list.
Online: https://hanoverchocolate.com/
How Sweet It Is Fudge & Candy Company
How Sweet It Is Fudge & Candy Company offers hand-crafted fudge and candy using only the freshest ingredients. They also use "time-tested family recipes" to offer something personal with each piece of chocolate or fudge. In addition to homemade fudge and truffles, they also sell candy making supplies.
Location: 1778 Holloway Drive, Suite B, Holt
Online: https://sweetfudge.com/
Fabiano's Candies
Fabiano's Candies has been a family tradition in Lansing, Michigan, since 1924. Fabiano's sells top-quality homemade candy, including clusters, creams, truffles, assortments, sugar free treats and more. One of their many great Valentine's Day gifts – or birthday or Christmas gifts – would be Fabiano's Candy of the Month Club, delivering one pound of Fabiano's candies right to you or your significant other's doorstep each month. Now that says love!
Location: 1427 E. Michigan Ave., Lansing
Online: https://www.fabianoscandies.com/
Flint/Flushing Candy Company
Flint/Flushing Candy Company specializes in old fashioned chocolates, retro candies, hard candy, gummies and other candies, as well as teas, candles and other locally-made products. We really love their rolled ice creams, to boot.
Location: 11225 S. Saginaw #13, Grand Blanc
Online: https://www.citycandy.co/
Jackson Candy & Fudge Factory
Jackson Candy & Fudge Factory goes for that kid-in-a-candy-store feeling. They offer pretty much every sweet treat out there, from chocolates and old fashioned candies to caramel corn and frosted cinnamon nuts. They're 1800s building adds a nice, historical touch.
Location: 1522 E Michigan Ave, Jackson
Online: https://www.jacksoncandycompany.com/
Mackinac Fudge Shop
One hasn't really lived until one has tried Mackinac fudge. The island is known for its fudge, and Mackinac Fudge Shop has a plethora of great options. Candy-lovers will find traditional fudge, imaginative fudge flavors, hand-dipped chocolates, bark, popcorn and old-fashioned candies. Oh, my!
Location: 1001 N State St., St. Ignace
Online: https://www.mackinacfudgeshop.com/
Mokaya
If chocolate is a favorite of your sweetheart, Mokaya is a great choice. Mokaya is an actual chocolate boutique located in Grand Rapids, featuring some of the finest gourmet chocolates around. All of their cocoa beans are from Latin American countries with fair trade policies, and all of their other ingredients are sourced locally first. They also make their chocolates in small batches with fresh, natural ingredients.
Location: 638 Wealthy St SE, Grand Rapids
Online: https://www.mokayagr.com/ and online store: https://mokaya-inc.square.site/
Ross Fine Candies
Ross Fine Candies got their start in 1948, so they know a thing or two about chocolate. Their chocolate is extremely flavorful and rich, and Ross offers unique candy options, such as chocolate-covered potatoe chips, white chocolate coconut clusters, dark chocolate casher clusters and hot cocoa bombs. Yum!
Location: 4642 Elizabeth Lake Rd, Waterford Twp.
Online: https://www.rossfinecandies.com/
Sanders
Sanders is a famous name in Michigan, offering iconic chocolates, dessert toppings, gift baskets and more since 1875. When it comes to gifts, they have a bounty of options. Specialized gift baskets are their specialty, offering something special in each basket of sweetness.
Location: Sanders has locations in Mackinac Island, Wyandotte, Rochester and Clinton Township. Visit their website for more details.
Online: https://sanderscandy.com/
Sayklly's Confectionery & Gifts
Sayklly's Confectionery & Gifts has been going strong in Escanaba, Michigan, for three generations. Sayklly's prides itself on on homemade chocolate and candies crafted from only the best ingredients. Aside from traditional chocolates and candies, Sayklly's offers sugar free treats and a special "U.P. Gifts" section, the latter offering whimsical Upper Peninsula gift items.
Location: 317 N Lincoln Rd, Escanaba
Online: https://saykllys.com/
The Taffy Barrell
Those searching for truly old-fashioned taffy candy will find that, and more, at The Taffy Barrell. Those looking to get their taffy fix from a far may order The Taffy Barrell's assorted taffy bag, featuring a range of flavors and tastes. Customers may also shop by color on the website, which offers the ability to craft a beautiful, color-coordinated taffy gift.
Location: 211 Bridge St., Charlevoix
Online: https://thetaffybarrel.com/
Zingerman's
Zingerman's is a popular brand out of Ann Arbor, and Zingerman's Candy Manufactory is part of that Zingerman's Community of Businesses. The candy manufacturing part of their business kicked off in 2009, and since then, it's grown to be one of the most recognized candy brands in the Mitten. Zingerman's shines in whatever they do, so it's no surprise that their candies are incredibly tasty.
Location: 3723 Plaza Drive, Suite 3, Ann Arbor
Online: https://www.zingermanscandy.com/