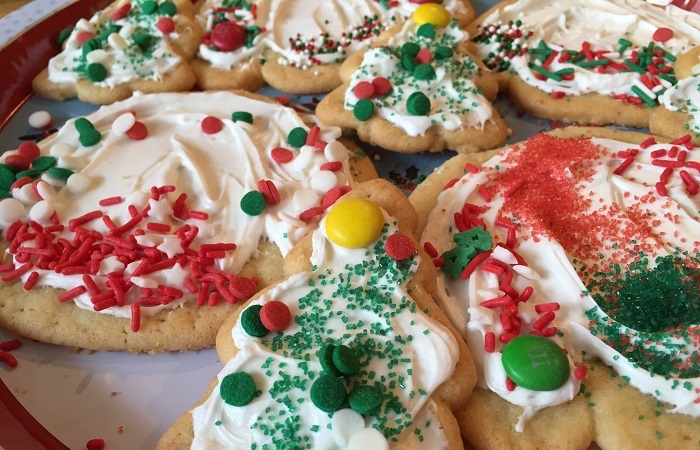 Recipe: Anne's sugar cake cookies will delight the child in you.
Who doesn't love a good sugar cookie? Whether or not it's the holidays, sugar cookies are the perfect treat. This recipe uses cake mix to add a special, vanilla flavor that is oh-so good! Sugar-cake cookies? Mmm, yum!
I prefer the yellow cake mix for this recipe, but what's cool is that you can use any cake mix flavor you wish. This recipe also works well with chocolate, fudge or white cake mix. I've never tried it with carrot cake mix or anything super out-of-the-box like that, but if you're so inclined, give it a shot and contact me to let me know how it turned out!
One tip: Try not to roll out the cookie dough too thin or thick. If it's too thin, the cookies will cook too quickly and be crunchy. If it's too thick, the cookies will poof up while baking, losing the shape of the cookie cutter. A good rule of thumb is to roll them to about 1/4-inch or 1/2-inch, no more and no less. This way, they should bake evenly and chewy, but still cook through. Also, make sure the cookies are baked right though the center! You don't want anything uncooked left to taste.
Ingredients:
Cookies:
1 package yellow, white or Devil's food moist cake mix
1/2 cup shortening or butter-flavored shortening (I prefer butter-flavored)
1/3 cup butter, softened
2 egg yolks
1 tablespoon water
1 teaspoon vanilla extract
Frosting:
1 tub vanilla frosting (16 ounces)
Garnish:
Sprinkles!
Directions:
1. Preheat the oven to 375 degrees Fahrenheit. Don't grease the baking sheet- it's not needed!
2. Let's make the cookies. Bring together the shortening, butter, egg yolks and vanilla extract in a large bowl. Add the cake mix, little by little. Add 1 tablespoon water at a time until the dough is a consistency that's easy to roll.
3. Divide dough into several balls. Roll to 1/2-inch thickness on lightly floured surface. Cut with cookie cutters. Continue for the rest of the dough.
4. Bake cookies on an ungreased baking sheet for 6 to 9 minutes or until the edges are light brown. Keep checking the time, because these are easy to overbake or under bake. The smaller the cookie, the quicker it will bake!
5. Cool cookies on baking sheet for one minutes after taking them out of the oven before transferring them to another plate.
6. Let cool completely. Frost with pre-made frosting, and decorate with the sprinkles.
Sugar cookie perfection: Sweet and soft, these make for the perfect cookie!