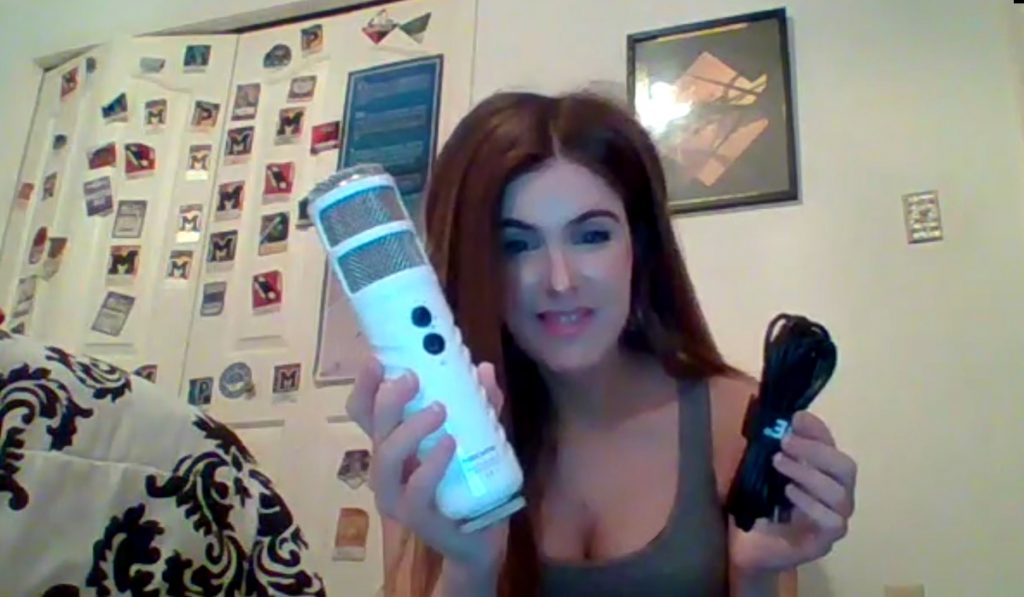 As you know might know, I'm a radio broadcaster who has worked in commercial radio throughout Michigan, California and beyond. I'm currently on-air at WRIF in Detroit, a great active rock station, and have been on a bevy of other rock radio stations, as well as some other formats.
I truly love radio. So, when I started to hear about podcasting, I knew that I wanted to start my own podcast. Now, that show – Anne Erickson on Audio Ink – is in the top 2.5% of all podcasts in the world. I put a lot of hard work and passion into my podcast, and that shows, but what also helps is having good gear. So, what are the best microphones for podcasting?
When I first set out to start my podcast, I went to the engineer at the radio station where I worked and talked with him about getting some quality gear. This was a few years ago, and I have to say that even in just a few years time, the technology has really improved. Back then, I would never have considered a plug-and-play USB microphone. I only considered XLR mics. Today, there are some USB mics that are just as good as XLRs, and with a much lighter setup, although I still believe that the XLR mic is the quality standard.
I currently have two different mic setups for my podcast. One is brand new. I'm going to tell you about both and show you where to find them. Read on for some of the best microphones in podcasting that I've discovered.
Plug-and-Play Podcasting Microphones
Mackie Vocal Condenser Microphone
Up until just last month, my only home studio setup was with an XLR microphone and audio box. But, I really wanted to find a plug-and-play option, where I could just take my mic and laptop on the road and still get broadcast-quality sound.
I settled on two microphones, and I love them both. I spent hours researching options online, and I can truly say that I'm happy with these purchases.
If you're on a budget, the first mic I purchased could work for you. It's the Mackie Vocal Condenser Microphone (EM-USB-LTD-WHT), and it's currently around $60 on Amazon.
This is a condenser microphone, so you have to be careful about room noise, as it can amplify any background noise. That said, I was surprised at this microphone's high-quality audio, especially given the price. I am only using this microphone for podcasting, so I can't say much about how it works for music, but if you're looking for a budget mic, I suggest this one. I also use this microphone for video and video streaming online.
Find the Mackie Vocal Condenser Microphone on Amazon here. Find more Mackie products here.
Rode Podcaster
I've seen so many podcaster use the Rode Podcaster mic. Granted, I've seen a lot of podcasters also use the Shure Shure MV7 and Shure SM7B, but the cheaper cost of the Rode Podcaster (under $250), lovely white appearance and stellar online reviews really got my attention.
I admit that one of my favorite podcasts is the Girl Next Level show, with Holly Madison and Bridget Marquardt, and it appears they use this microphone. There are also a bevy of other podcasters that swear by it. What really makes this mic special is that it's a dynamic microphone, but it's also a USB, plug-and-play. This makes it super easy to just plug into your laptop and start recording broadcast-quality audio. I was shocked at the thick, bass-heavy sound this microphone delivered when I tested it. It's my new favorite microphone and much easier to set up then my previous setup. My coworkers at the WRIF like the sound of it, too. I do a segment for Midnight Metal on the WRIF, and I have started to use this combination to voice that audio.
It's worth noting that this microphone reminds me of the Electro Voice RE20 that I've used in commercial radio stations for so many years. Check out all of Electro Voice's offerings here.
Find the Rode Podcaster on Amazon here. Find more Rode products here.
XLR Setup
XLR Mics
For years, my main setup was an XLR mic with an audio box, and that's still the setup I use for my radio broadcasting. I just feel like I have a "real" mic with an XLR, even though, as I mentioned, the Rode Podcaster sounds fantastic.
As for an inexpensive XLR that sounds great, I highly recommend both the Shure SM57 and Shure SM58. They are industry standard for live gigs and you just can't beat them for the price. These are both dynamic mics.
Audio Interfaces
As for audio interfaces, you have plenty of options. A few solid ones that aren't too pricey are the UA Volt 1 USB Audio Interface and the 2i2 Audio Interface Audio Interface Microphone Preamps. Both offer the phantom power you need and a solid sound.
Find the UA Volt 1 USB Audio Interface on Amazon here. Find more Universal Audio products here.
Find the 2i2 Audio Interface Audio Interface Microphone Preamps on Amazon here. Find more ZUZONG Store products here.
Summary
I hope this list and my experiences help you on your podcasting journey. I truly believe that no matter the gear you use, that passion that you have for your podcast will shine through, so don't stress out too much about what to buy. Best of luck on your podcasting adventure.
Affiliate program disclaimer: If you purchase a product through one of the links on this site, I may receive compensation. These links were generated from the Amazon Affiliate Program. That said, all of my reviews are totally unbias. When I recommend a product, it's because I truly believe in it!